Dust Control Control Solutions for the Construction and Mining Industry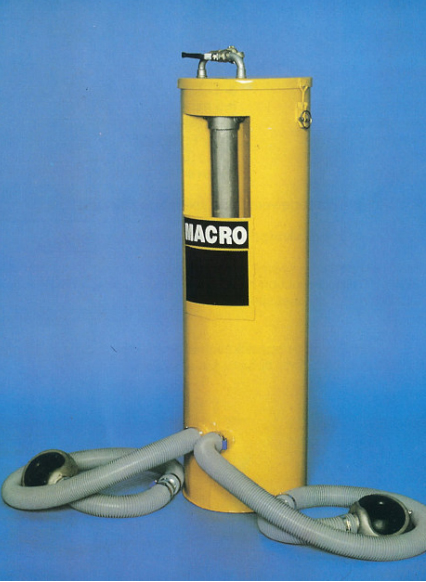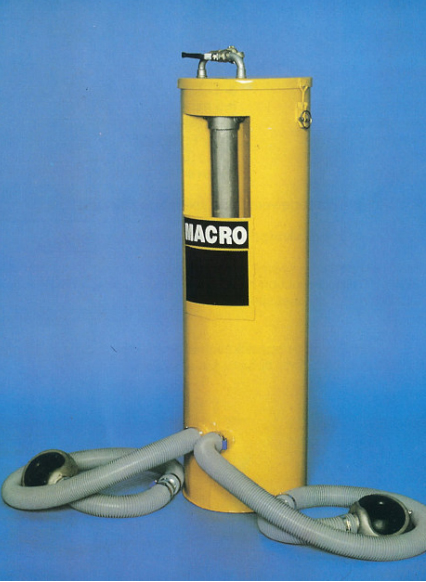 Macro
Specification:
Max hole size: 2 x 38 mm (1 1/2")
Filter area: 3.6 m2
Air consumption: 1.7 m3 / min
Air pressure: 7 BAR
Width x depth x height: 362x458x1230 mm
Approx weight: 45 Kg
Filter cleansing system: Reversed air
Suction hose: 2 x 10 m (2" )
Cuttings collector: 2 x ICC 10
Hose swivel: 2 x 2"
Download leaflet
Accessories
Features
Designed for tough work
The cuttings collector is specially designed for tough work ensuring that the dust is reduced to a minimum at the operator's position. Close to the cuttings collector the hose is equipped with a swivel to safeguard that the cuttings collector can rotate to keep the cuttings collector always close to the ground.
Latest technology
MACRO is equipped with the latest technology when it comes to filter cleansing system. A valve positioned on top, manually operated, reverse the airflow through the filters to make sure that the suction capacity is maximal over a long time.
Light weight
The compact design makes the MACRO light weight and easy to move and carry. During use the MACRO is positioned on a sturdy stand which allows easy access for changing the plastic bag which collects the rock cuttings and dust.
X-series Hydraulically Powered Dust Collectors for Hole Dimensions up to 203 mm
H-Series Hydraulically Powered Dust Collectors for Hole Dimensions up to 102 mm
Fully Pneumatic Dust Collectors For Hole Dimensions Up To 140 mm (5 1/2")
Zero dust systems
Asphalt Fume- and Dust Control System
Precision Drilling Instruments
Accessories
X-E-series Electrically powered Dust Collectors for Hole Dimensions up to 203 mm
XR-Series Dust Collecotors for Rotary Drills